Chairman's Desk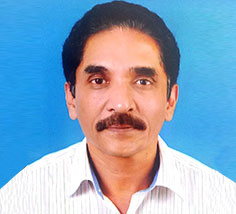 Dr. Kripal
Bharatiya Vidya Bhavan since its inception in Koyilandy way back in 2007 has always thrived to impart the best education to our students. We here believe that progress in any field is based on sound education not the bookish knowledge. The values of wisdom, compassion, courage, humility and integrity has always been looked into. Sports and co-curricular activities has been given the due importance. We believe that all these values imbibed by a student would mould him into a true and faithful citizen.
With a humble beginning our growth in the past decade has been prestigious. We hope to make this institution into a haven of excellence. With the cooperation of a committed and dedicated teaching faculty we are on the right course. Our parent teacher association as always been vibrant, I am sure this will add to the sheen.
We are confident that Bharatiya Vidya Bhavan at Koyilandy is the best place for any child to mould his or her carrier .We look forward to the continuous support of all the well-wishers so that Bhavans motto of inculcating value based life is upheld.